Hazards
| Hazards | Applicable Ability |
| --- | --- |
| Warps | Null Warp |
| Laser Barriers | - |
| ATK/DEF Up | - |
| Movement | - |
| Homing Absorbers | - |
Video Walkthrough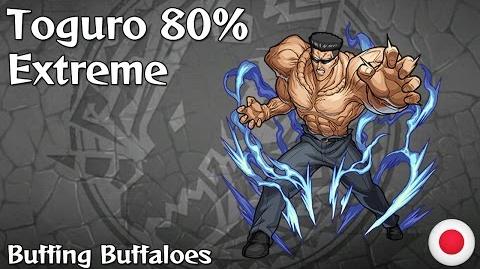 Overall Strategy
Bring Wood Monsters
Younger Toguro deals a lot of damage, especially when you are near him. Your HP will instantly deplete when he has his ATK Up. Have a team of Wood monsters to mitigate damage.
Have Some Null Warp Monsters
The only hazard you can nullify is the Warps. Have some Null Warp monsters so that you can move around the map.
Defeat the Buffaloes, Especially the Water One
The Water Buffalo will increase the ATK of Younger Toguro. The Light Buffalo will increase the DEF of Younger Toguro. Focus them first, especially the Water one since the Boss can instantly kill you.
Viable Monsters
S Rank
Reason

Hatcher
Gabriel (Evolution)
- Bounce, Light Slayer
- Chain Lightning for mob clearing

Hatcher
Dragon Shiryu
- Bounce, Full Resistance + Demon Slayer + Null Warp
- Mitigates damage from enemies
- SS can deal over 2.0 Million damage
A Rank
Reason

Hatcher
Gabriel (Ascension)
- Pierce, Water Resistance + Null Warp
- Meteor SS for mob clearing

Mission
Hulk
- Bounce, Demon Slayer M + Null Warp
- Giga Blast for support
- SS can deal 2.5 Million damage

Hatcher
Belphegor (Ascension)
- Bounce, Null Warp + Water Slayer
- SS can deal high Boss damage

Hatcher
Kurama (Evolution)
- Bounce, Null Warp + Demon Slayer
- Rebounding Spreadshot for damage

Hatcher
Lucifer (Transcension)
- Pierce, Demon Slayer M
- Slayer for the Boss
- Defense Up can help allies mitigate damage
B Rank
Reason

Hatcher
Toyotomi Hideyoshi (Ascension)
- Pierce, Null Warp + Weak Point Slayer
- Deals a lot of damage with normal attacks
- SS can help him and allies deal more damage

Hatcher
Nightingale (Ascension)
- Pierce, Water Slayer
- Cross Laser XL that procs Slayer for damage

Hatcher
Musashibo Benkei (Ascension)
- Bounce, Null Warp
- Wall Bouncing SS for high Boss damage

Hatcher
Dead Rabbits Ltd. (Ascension)
- Pierce, Mech / Etherean Slayer + Null Warp
- Bump Combos for mob clearing and support

Hatcher
Archimedes (Evolution)
- Bounce, Demon Slayer XL
- SS can deal over 2.0 Million damage
C Rank
Reason

Hatcher
Bach (Evolution)
- Bounce, Demonsbane
- Bullet SS for mob clearing

Hatcher
Spica (Evolution)
- Bounce, Demon Slayer XL
- SS can be used if you are on low HP as well as for Boss damage
Viable Max Luck Monsters
A Rank
Reason

Drop
Kushinada
- Bounce, Vivolith Slayer
- Motivation SS for mob clearing and damage with Slayer allies
B Rank
Reason

Drop
Tokugawa Yoshinobu (Evolution)
- Bounce, Null Warp
- Piercing SS can be used for damage or to grab items

Drop
Zhang Jiao
- Pierce, Beast Slayer M + Null Warp
- Slayer for the Buffaloes
C Rank
Reason

Drop
PC-G3 (Ascension)
- Bounce, Demon Slayer M
- Slayer for the Boss

Drop
Gigabeast Fighters
- Bounce, Null Warp
- Lock-on Piercewave 6 for mob clearing

Drop
First Empress (Evolution)
- Bounce, Demon Slayer M + Null Warp
- 16 Turn Command SS for mob clearing